​The Order Sons of Italy in America's mission:
·To keep alive the cultural attachments to the traditions of the land of our ancestors
·To encourage dissemination of Italian culture in the United States
·To defend and uphold the prestige of the people of Italian birth or descent in America
·To promote civic education among its members
·To promote the moral, intellectual and cultural well-being of our membership
·To encourage the active participation of our membership in political, social and civic life of our communities
·To initiate and organize movements for charitable and humanitarian purposes, to join and support similar meritorious movements initiated by other organizations or groups.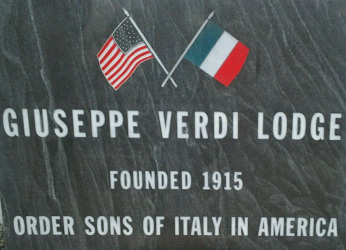 Giuseppe Verdi Lodge
CHARTERED
in Richmond, Va. in 1915, we are a
fraternal organization of people of Italian birth or heritage, and part of the nationwide
W
e are one of the oldest Italian lodges still in existence today.
WHO WE ARE
We are a group of persons interested in the preservation of our
ITALIAN
heritage, cultures, and traditions. We take great pride in our roots, and would like those of a similar mind to join us.
WHAT WE DO
We are a not-for-profit fraternal organization working for charitable purposes in support of the Cooley's Anemia
Foundation, the Alzheimer's Foundation, Autism and other local charities, thus fulfilling our motto of:
LIBERTY, EQUALITY, FRATERNITY
WHERE AND WHEN WE MEET
GIUSEPPE VERDI LODGE
7342 VERDI LANE
MECHANICSVILLE, VA. 23116
DOORS OPEN @ 11:30 a.m.
DINNER 12:30, MEETING @ 1:00
MEETING DATESFebruary
4,
March
4,
April
8
May
6,
June
3,
INTERESTED IN JOINING US?!
MEMBERSHIP ELIGIBILITY
All persons of Italian birth or Italian descent, and spouses of such persons, are eligible for membership.
A completed membership application is required and approved by a majority
of current members.
Join us in celebrating our heritage.
For more information email us at:
ContactUs@giuseppeverdilodge.org
or
Contact our Membership
Chairperson
-duwanedonati@verizon.net
---